An error while installing / activating a WordPress theme usually means the incorrect files were uploaded or the item you have purchased is not actually for WordPress.
The exact error message may vary, but will typically include the words, 'Broken Theme' or 'Stylesheet Missing'.
Confirm You Purchased a WordPress Theme
When viewing the item detail page on ThemeForest, the item's sidebar will reference WordPress in the "Software Version" section. The item description will often mention WordPress as well.
Only WordPress themes are able to be installed on a WordPress powered site.
Read the Included Documentation and FAQs
Once you are sure you have purchased a WordPress theme, download and unzip the All Files & Documentation package to your computer.
The included documentation will typically be a PDF or HTML file that can be opened in a web browser. Go through the installation steps provided as they will be specific to the file you purchased.
Check the item FAQs and Comments, your question might already have been answered!
Upload the Proper Files to WordPress
Within your account download button, you will typically see the option to download All Files & Documentation or just the Installable WordPress file only.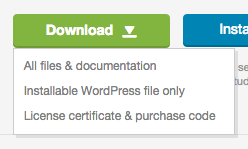 The easiest way to upload a theme is to download just the Installable WordPress file and upload it in the WordPress admin area:
Log in to your WordPress admin area
Browse to Appearance > Themes
Click on Add New
Click Upload and browse for the theme zip
The theme can also be found in the All Files & Documentation file, but you will first need to unzip this to your computer and locate the theme files within this package.
If you prefer to use FTP, the theme files can also be uploaded manually by placing the theme in your /wp-content/themes/ folder on your server directly and then visiting Appearance > Themes within the WordPress admin area.
Additional Help / Support
Authors are not required to offer support, but those who choose to will outline how you should contact them on their profile page, in the item description or in the comments.
Search the ThemeForest Forums for a solution to your issue.